CineSamples Adaptive Legato engine is a unique scripting feature that adjusts the Speed and Intensity of legato transitions between notes to better match your performance. This allows you to play phrases with both fast and slow passages. You can find this tool in the Settings tab of the GUI. If the Legato engine is turned On, the Hairpin Creator feature will be deactivated.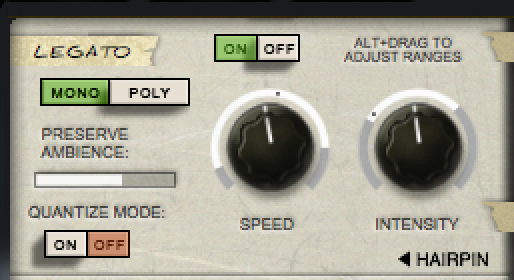 The Legato Speed and Intensity knobs can be turned up and down to globally set a faster/slower or louder/softer transition. When holding the Alt/Option key and clicking on the knob, you can drag your mouse up and down to expand and shrink the ranges for the Adaptive Legato engine, and you will see the white outline around the knob change to reflect this. This white outline indicates how much variety is available for the Speed and Intensity parameters. As you play on your MIDI controller, you will see a black dot appear in this white outline to indicate how fast/slow or loud/soft a transition is being played.
Functionally, the way this engine works is applying a delay before the legato transition plays. The Quantize Mode toggle switch allows you to set a specific amount in milliseconds for this delay. This is useful for passages that are quantized to the grid in your sequencer, which need a strictly consistent legato transition speed between them. The Quantize Mode disables the Adaptive Legato.
This functionality is available for all CineSymphony library patches that support True Legato. It is also available in the Tina Guo Acoustic Cello Legato, and Tina Guo Vol 2 Artist Series libraries, and Viola da Gamba library.