Cinesamples is a developer of professional-quality sample libraries, powered by the Native Instruments Kontakt software instrument. Kontakt loads as a software instrument plugin inside your composing program (Digital Audio Workstation/DAW), and within a plugin instance of Kontakt, you can load patches from sample libraries made by Cinesamples and other manufacturers.
There are two versions of Kontakt, so when considering a purchase on our website, be sure to check the listed compatibility requirements and make sure that you have the correct version. Each product's store page will list if the library works with the free Kontakt Player or requires Kontakt FULL, and it will also list the minimum version number requirement. The required Kontakt version number listed for a library applies whether it works the free Player or requires the full Kontakt.
Certain libraries require the full version of Kontakt. These libraries do not use serial codes for activation in Native Access, do not sit in the Libraries tab of Kontakt, and will only work in Demo Mode in the free Kontakt Player.
We have a full compatibility chart for our products available here.
To load patches for the full Kontakt, since they don't appear in the Libraries sidebar, you can use the Files browser tab of Kontakt, or use the Finder/Windows Explorer to locate the .nki files on your system and drag them into the Kontakt interface. Here you can see CineBells loaded from the Files menu.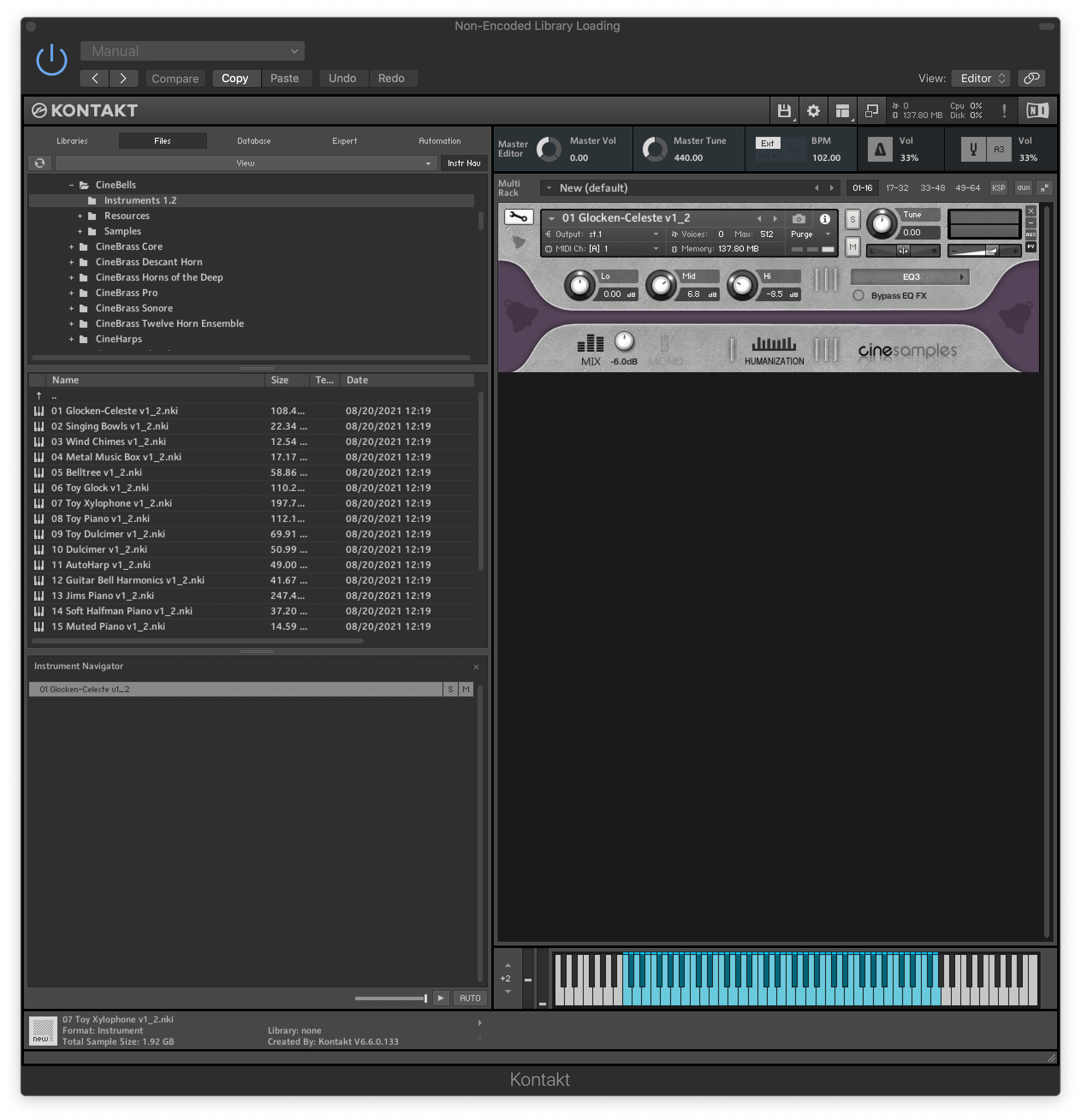 Another handy feature is the Quick Load menu, which gives you fast access to your favorite patches from any source, encoded or not.
It's important to note that if you have both the free Kontakt Player and full Kontakt on your system, your DAW may recognize them as separate applications, and different options to load as software instrument plugins -- if you have a patch loading in Demo Mode, check the upper left hand corner and see if it says Kontakt Player or just Kontakt.
See this guide to learn more about folder structure and how to verify a successful installation.
Many of our products that work with Kontakt Player also work with the Komplete Kontrol plugin. See this guide for more information about the NKS format.